It's a little weird to ask for money, but when we started, I was paying for this whole thing out of my own pocket. And believe me, as a student and a lifelong journalist, there's not a hell of a lot in my pocket.
Fatal Encounters received 501(c)3 public charity status from the IRS on Nov. 20, 2014. Our EIN is 47-2263583. Your donations are tax deductible beginning June 9, 2014. Thus far, this effort has been nearly entirely self-funded and done by volunteers. We rarely asked for any financial assistance, but we need help now. I'd appreciate it if you'd click the "Donate" link above, and throw a little cash our way. Thank you.
D. Brian
This information is required if you want to add Fatal Encounters to your Donor Advised Fund or have other formal needs, like writing it off on your taxes.
EIN is 47-2263583
Fatal Encounters Dot Org
1260 Patrick Ave.
Reno, NV 89509
United States
Checks should be mailed to:
Fatal Encounters Dot Org
c/o D. Brian Burghart
316 California Ave. #828
Reno, NV 89509
David Burghart
775.842.5785
d.brian@fatalencounters.org
www.fatalencounters.org
---
For those who prefer the convenience of the Cash App, please use $FatalEncounters.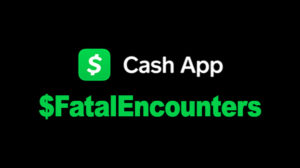 ---
Now accepting Bitcoin.
1LciBEL8zNBjopYPDjGnMaA5TCu2yEvFrC